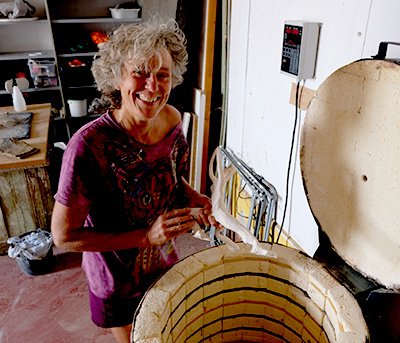 Ceramics and Glassfusing at SerVivo
Come and enjoy the miracle of transforming earth into stoneware.
Or create a colorful transparent glasswork.
We organize workshops in the atelier of SerVivo.
Besides clay It is also possible to work with a lot of other materials, like glass, plaster, stone, wax and wood.
On Sundays you can come and enjoy working with your hands, shaping a nice form or a design. Everything is possible, whether it's something you can use in your house or hang on a wall or a nice sculpture. You can sculpt your dreams or work with a concept.
I can guide you through the learning process and help to find your personal inspirations.
Price: 15-30€ (sliding scale) plus costs of firing and material. 2 workshops in one day: 25-50€.
Location: Servivo, Estrada do vale dos Barris, 2950 055 Palmela Portugal.
Parking on the right side of the street please
Please write an email if you like to come.
Contact:
Note: That if you register and do not cancel 24 hrs before you need to pay. Its also good to realize that if you register you keep a place where someone else could be. I only take 6 participants so that I can give proper attention to everyone
Is the art of melting special glass together in a kiln and eventually make it into a 3d shape.
You learn to cut glass, how to put it together in such a way that the result is a beautiful transparent piece.
Its possible to make your own mould, to have your own personal shape.
The whole proces can take between 3 hrs and 3 times 3 hrs, 3 classes.
To make sculptures or daily life essentials like cups out of clay. After that color them and fire in the kiln.
The clay I use is suitable for building bigger sculptures. There are beautiful glazes to make your shape into a shiny artwork!
If you like to work realistic, make a human figure or face , I can teach you that.
And if cutlery is more your thing : come and design your personal bowl, cup or plate. Decorate with engobes and finish with a transparent glaze.